Is your second baby on the way? Do you want to get something special for your 2-year-old daughter? Or you're a grandmother that wants to give a big sister gift to a 2-year-old when her brother comes along? Either way, you're in the right place. I want to do something special also for you. That's why I did a research and found really great big sister gift ideas for 2-year-old.
By the way, all links will go to products from Amazon.com, in case you want to see more or buy.
Let's begin!
List of the best big sister gift ideas for a 2-year-old
Doll and a pram
As you know, even young kids sometimes feel left out when the new baby has come, so you need to make sure that you give attention also to your daughter. And I have an idea that might help – buy her a doll and a pram, or if your daughter already has many dolls at home, then buy her just a pram, or a stroller set with other accessories.
In my opinion, this combination of a doll and a stroller is the best. Why? Because your 2-year-old daughter could push her doll when you push the baby. This way she will feel involved. And what's also great is that this way you can teach her how to take care of her doll while you're taking care of the real baby. And we all know that these things are important if you want your kid to grow up as a good, caring person.
Awesome
Kookamunga Kids Doll Stroller SET
5 pcs – a convertible baby doll stroller, crib with playpen, changing bag, and a carry cot
Premium quality
Beautiful gray and pink fabric
Item weight – 7.19 pounds
Recommended age – 2 years and up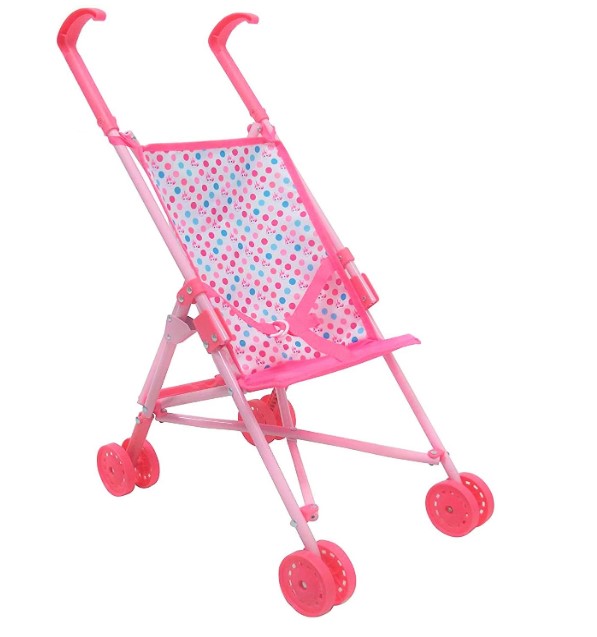 Kookamunga Kids Doll Stroller
Easy to Store & Foldable doll stroller with a super sturdy steel frame
Item weight – 1.94 pounds
Recommended age – 2 years and up
Twin Doll Stroller from Exquisite Buggy
Doll twin stroller with foam grip on handle and a basket underneath
Item weight – 4.29 pounds
Recommended age – 2 years and up
GREAT CHOICE
Anatomically Correct Baby Doll from JC Toys
Baby doll, a hand sewn knit outfit, a matching hat and booties, soft blanket, a baby bottle and pacifier
The doll has life-like dimples, folds and wrinkles
No buttons or zippers on clothing
Made from non-scented, BPA free, safety tested vinyl
Item weight – 2.44 pounds
Recommended age – 2 years and up
Baby Doll from Adora
Comes with a Baby Bottle and removable outfit
Eyes Open & Close
Bpa Free
Item weight – 1.3 pounds
Recommended age – 12 months and up
GOOD PRICE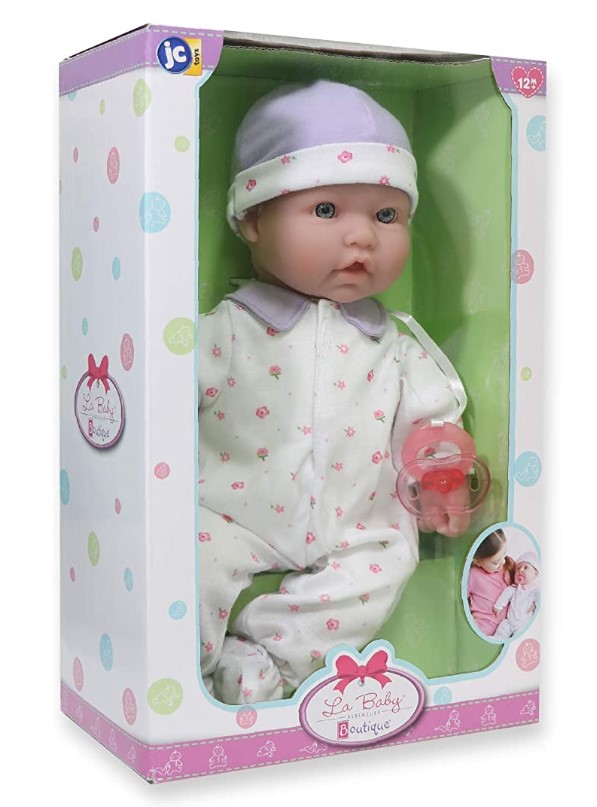 JC Toys Baby Doll
Lightweight, medium soft baby doll with Removable Purple Outfit, Hat and a Pacifier
No buttons or zippers on clothing
Washable
BPA and phthalate-free
Item weight – 1.45 pounds
Recommended age – 12 months and up
Colouring book, stickers book
Of course, you don't have to spend a fortune on something that your child will love. We all are thankful for even small things and presents that are made by our friend or relative. It's the thought that makes the gift so good. Although a 2 year old may not think that way, they are happy about everything.
A 2-year-old is still learning and exploring this world, and she will love a nice colouring or stickers book. So get it for her 🙂
I have 2 best options for you. Check them out:
Story book
 The books are great presents for people of all ages. That's really the truth. And best books are the ones you can read over and over again, the ones that have a message that will endure for lifetimes. And I know such a book. "The wonderful things you will be" by Emily Winfield Martin is a #1 bestseller, and no wonder (you can buy it here on Amazon.com).
This book is well written and beautifully illustrated. The story is sweet and easy to read, so it will be great also for your 2-year old. This book focuses more on being caring, kind, bright, loving, adventurous and creative, and less on specific activities like a career, money or something like that. The book emphasizes being unique, and that's important as you want your child to be a part of society but at the same time – be herself, and never forget about it.
And I said it before, the best books are the ones we can read over and over again, and I guarantee that this book will be the one! In our world, where are negative influences, we want to protect our kids. And what's the better way than teaching your kid positive "mind food".
Cuddly toy
If your child is into soft and cuddly toys, then Peppa Pig is a great idea to buy for your 2-year-old daughter. This plush toy makes a snorting sound and even talks. The size is perfect for preschoolers to hold and snuggle.
Peppa Pig and other cuddly toys are so much fun! Click here to see more of this toy on Amazon.com!
Kids camera
Believe me, she will love taking photos of herself and also you, little brother.. And she will enjoy playing the games on it.
With this camera a 2-year-old will love to take selfies as it has 2 cameras switch. It even has built-in auto flash, 4x digital zoom and more great features. The photos you can save on camera or microSD card or just choose the built-in memory. Here's where you can read more about this toy.
Bracelet
I don't know about you but I've always loved these kinds of gifts. Big little sister bracelet is a fantastic gift idea for a 2-year-old girl. I found one really great bracelet by HHHbeauty. It's inexpensive, in pink and white colors. Bracelet has a beautiful chain tail. This bracelet easily adjusts to fit wrist. Here you can find more images.
Art case
Probably your little girl is creative, loves drawing, right? Then art case by Crayola will definitely surprise your bundle of joy. Here's one from Amazon.com: Crayola Inspiration Art Case. It has 140 art and coloring supplies. Can you imagine how your little daughter will rejoice and be thankful for the gift?
This art case has 64 crayons, 20 short colored pencils, 40 washable markers, 15 paper sheets and pink, durable storage case.
Recommended age is from 4 – 10 years but, of course, there are some things that can be used in earlier stage, so are pencils. You just have to watch your little one so she doesn't get hurt. But you have to do that like every minute, right?
Princess Tent
Most toddler girls love the pink color. If your girl loves it and she loves to spend some time by herself, loves to build home for her then this tent definitely is a must-have for you 2 year old. It's also a nice way how to thank your little one for being such a great big sister.
This playhouse will be great for those times when breastfeeding. Your daughter can play in it. Also, I know that some kids better nap in their "own houses", so let it be.
Buy now Monobeach Princess Tent from Amazon.com!
Maybe you have some other ideas? Comment below and I'll be happy to include them in the article!
By the way, if you liked the article, please SHARE!