There are several types of toys. And no surprise – it's a really tricky task to find the best toys that bring a surprising blink in the eyes of kids. If you're one of gift hunters – parents, grandparents, godparents, relatives, friends of parents, and the list continues, you will be reading many articles until you find what you're looking for.
To help you orient in this big assortment, I've written this short article with some important tips for you. Get ready to finally get that best toy that will make a baby and toddler smile and help him to develop!
How to Choose Toys for Babies and Toddlers?
Pick age-appropriate toys
Most toys have a recommended age sticker, so use this information in the selection process. Also if you have met a baby and you know what he's capable of and how mature he is, keep this in mind.
But if you will see a baby for the first time and you have no idea what he can or cannot do, remember that you can give a gift that he can use later – after a few months or a year. Baby's parents will know when it's the right time for this particular toy, so don't worry.
Think about now and later
I'm not surprised if you think that a kid needs several numbers of toys. Yeah, sure, it's pretty hard to get his attention doing one thing but it doesn't mean that it's always that way.
You need to remember that toys are not just something that makes a kid to whirl and curl. It also promotes and supports him through his development process both physically and mentally. 
And in one point baby will have that interest to discover new things (everyone does), and if he will have the toy that gives him opportunity to learn by playing, he will play with this toy most of the time.
So is it really possible to give a gift that will bring joy to a kid even though baby is 3 or 4 months old? Sure, it's possible. But if you really want to give that great, awesome gift that baby can play with in ages, you need to keep in mind some things.
For example, toys with sharp edges is a big no-no, particularly if a baby is just some months young. "Open-ended" toys are the ones that makes the best choice for toddlers. And these toys can be used in several different ways, and no doubt – toddler will experience great moments with it.
Some of the open-ended toys to select from are blocks, balls, crafty pieces and bits, cardboard boxes etc. And what is great – with these toys baby can play now (if they are safe), even if he's just 5 months old for example, and later.
Yes, these are pretty simple toys but everyone starts to play with simple things! Remember that the baby has been in this world for a short period of time and he doesn't know anything. Toys, voices, environment is what he's learning from.
Limit the number of toys
Watch the eyes of babies while playing. Too many toys make their eyes simply rotating. Yes, they also get overwhelmed. I just mentioned this before but believe me – one great toy is much better than lots of them.
If you find the toy that is safe for a baby and he will be able to play with it after some months, you've found what you were looking for. Pick the one if you truly believe that the baby will be able to play with it without any confusion. Choose the best one or two instead of taking a basketful of toys.
Check the safety
The beauty of toys certainly attracts everyone but not all toys you really can give to a child. Read "What toys not to buy?" for more information. As I mentioned before, you should never forget the fact that safety stands above all.
Buy toys without sharp edges, toys that are free from mechanical parts, loud noises, and anything that can result harming a child. Parts on a toy should be securely attached and paint should not peel off.
By the way, well-made stuffed toys always is a good choice if you can't find anything that you like. Just make sure that its parts are tightly made, edges and seams are secure, a toy does not come with loose ribbons and strings as these objects can strangle a child, and the toy is washable.
Stay away from toys with small magnets
Do you know how CPSC calls magnets? A hidden home hazard. And that's not a surprise. As they are often used in toys, and they may fall out of the toy, a child can swallow it. If a baby swallows two or even more magnets, they can attract to each other causing holes, infection or even worse.. That's why the agency recommends keeping toys with magnets away from kids under the age of 14. So don't forget about it, ok?
Watch out for toxic toys
Even if you find a toy that looks safe at first glance, you should think again. As you know many toys are made with chemicals and full of plastic junk that can harm your child. Three chemicals prompt the most concern: lead, phthalates and bisphenol A. And if children swallow large amounts, they can develop blood anemia, brain damage, stomachaches, muscle weakness and more, according to the Centers for Disease Control and Prevention. So be cautious!
Toys that are made of non-toxic materials is a much better choice, at least for babies and toddlers when they tend to put everything in their mouth.
Skip mobile phones and balloons
Yes, it is a good idea to avoid mobile phone toys for babies and toddlers. You better know the dangers of giving the smartphones to kids and even smaller children. Although most of parents don't give their smartphones to little ones, some does. And yes, you might think that toy phone is innocent, there are situations when it adversely affects a child.
There is no doubt that balloons are fun. But when it gets inflated or broken, there's a big chance that a kid can swallow it. And this is a reason why I strongly suggest not to give balloons to toddlers.
Size and material
Babies and toddlers have feather touch skin. Toys should not make any sort of irritating experience. Choose toys that are made from smooth materials and fine finishing. Although toys with different textures is a good choice as baby can develop sense, feel and distinguish ability between different surfaces.
It is quite natural that toddlers like to taste toys in most cases. So make sure that all, even smaller parts can't get detached. Until a child turns 3 years old, toy parts should be bigger than his mouth to prevent the possibility of choking.
Don't pick heavy toys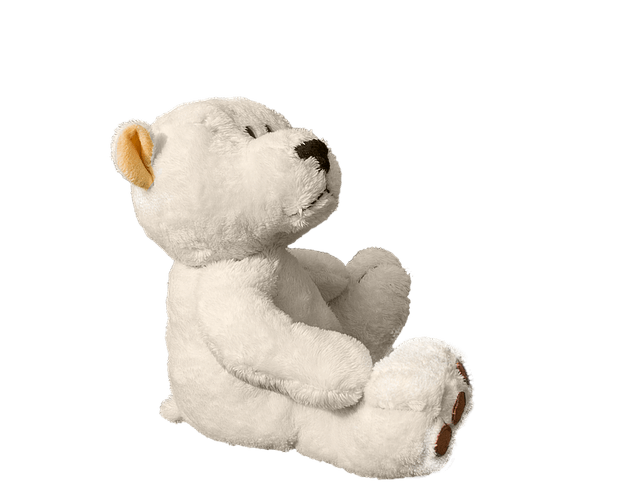 Well, it's pretty obvious, isn't it? If you will give a heavy toy to a 3-month old baby, he won't be able to hold it so a child will harm himself, and you don't want it. So pass these kind of toys.
There's nothing more satisfying than seeing a happy child. And although a baby may not give you a smile, he and his parents will appreciate your gift, so take some time to select the best toy for a kid!
---
WHAT ARE THE BEST BABY TOYS FOR AGES 0 TO 6
Watching your or your friends' baby grow up is amazing, especially the first year. The transition from only feeding and sleeping to the curiosity that comes as they grow up, babies begin to crawl around, they are taken by any sound or sharp color. Basically their five senses develop.
Babies under 6 months are very curious. They discover and learn everything about this new world.
So now as a parent, you have to figure out the best way to develop your child. You are now doing more than just breastfeeding, you have to feed also this new hunger for learning using various means. One perfect way to do this, is to get them the best baby toys so they can grow through this development stage, and develop proper cognitive and social skills.
Whether you are buying a toy for your newborn or looking for best gifts for a baby under 6 months, choosing the right toy is very important.
The best development toys for babies under 6 months are toys that stimulate the hearing, taste and sight. Needless to say that these toys must be safe for the babies as well. It's better to choose non-toxic toys as a baby in this stage chews almost everything that is in his hands. Check out this article where I discover best non-toxic toys: http://thebabycelebration.com/ultimate-guide-best-non-toxic-toys/. But that doesn't mean that other toys are bad. It just means that babies tends to be more sensitive to chemicals and toxins. But well, there are so much harmful substances around us…
Here are some types of baby toys that you can pick out from. I also listed some great examples which you can buy on Amazon.com.
Playmats or Activity mats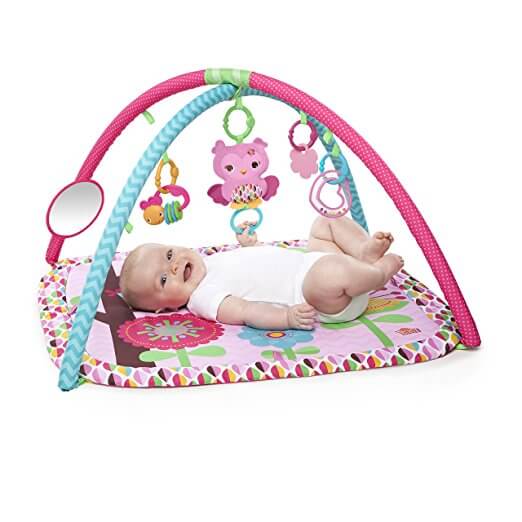 Once babies become more aware of their surroundings, the playmate becomes one of the best choices for babies under 6 months of age, and beyond.
Watching the toys dangle above them, arouses their curiosity a lot and often their eyes follow these toys, and most times they stretch out their hands to pull, bat, spin or rattle the dangling toys.
Personally, I would suggest the B.Wonder above play gym that features an arc of touchable and squeezable toys or the Bright Starts Activity Gym Lamaze with a beautiful pond graphics as well as tummy time mirror (check it out here on Amazon.com).
Best Playmats and Activity gyms for girls under 6 months on Amazon.com:
Best Playmats and Activity gyms for boys under 6 months on Amazon.com:
Rattles
If you have been a mom or dad before, you know that babies love making noise, and these rattles are a fun way to teach babies. Teach what? Well, you can teach them what kind of noises there are, what makes different things to make these noises and so on.
With the rattle they learn that things respond anytime they take an action. And it helps them to understand that they actually have some control over what happens around them.
In selecting rattles for newborn babies, always go for lightweight rattles that are soft and not difficult for the baby to grasp. Manhattan Toy Winkel Rattle and Sensory Teether Toy and Fisher-Price Rattle are perfect for this (for links to these products look below).
Best rattles for baby girl under 6 months on Amazon.com:
Best rattles for baby boy under 6 months on Amazon.com:
Board Books
Reading is an essential aspect for kids. Although babies can't read, right from when the baby's eyes are developed enough to see what goes on around them, reading to them from books while showing them the pictures helps to develop a good memory.
Board books are especially good for such purposes as they can resist drooling, mouthing and also encourage bonding between mother, dad and a child.
Don't forget that babies are very curious and even if you think that baby won't be able to pay his attention to pictures, you might be wrong. Yes, they won't be able to look at images for an hour and event not for 20 minutes but 5-15 minutes a day will be just fine.
Best board books on Amazon.com:
—> Keepsake Board Book by Kids Preferred
—> Puppy Board Book by Jellycat
—> Fabric Cloth Books by Kolamom
—> Personalized Book by I See Me!
And as you might know there are books with just pictures as well. There are also books with not just pictures of animals but also from different structures so parents and baby can learn by touching. It's just amazing what you can do with books these days, right? Books really are for all ages.
Best soft books for babies under 6 months of age on Amazon.com:
Teething Rings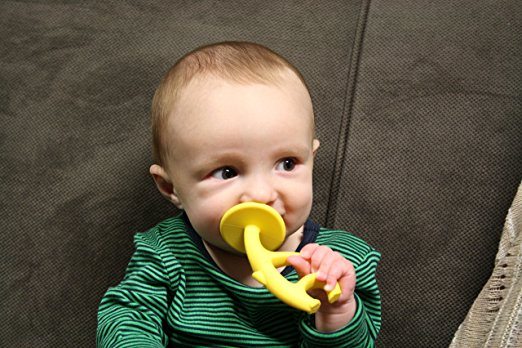 When those tiny little teeth starts emerging through the gums, anything and almost everything they touch goes to the mouth, hence you should be careful to watch what goes into their mouths.
Teethers or teething rings helps soothes the irritation and relieves the pain they get and helps them feel more comfortable. For example, Winkel and Sophie the giraffe teething ring certainly helps in this case.
Best teething toys for babies under 6 months on Amazon.com:
Stacking Blocks
Some babies develop faster than others. When my godchild drew close to the six month mark, he became more comfortable sitting up and had an interest in putting stuff together, so I had to figure out a way to keep him sitting in one spot and also satisfy his interest while I got a bit busy with other duties (yep, I looked after him a lot).
The stacking blocks helped me with that (also for baby's parents when I told them), and sometimes, I would sit with him and stack those blocks. So you can get it too for your or your friend's or relative's baby. Even if he or she does not have much interest in building, he/she can just play around with it in one spot.
Best stacking blocks for babies on Amazon.com